Developing close ties over a long period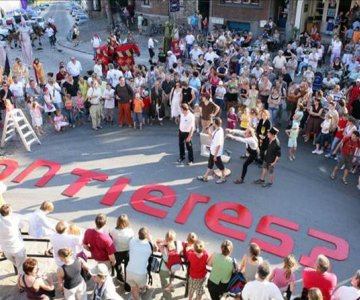 From the outset, the Scarpe-Escaut Regional Nature Park and the Escaut Plains Nature Park have expressed great interest in working together and developed a relationship based on mutual cooperation which has only grown stronger over time. It is now nearly 25 years since the first communications across the border!
 In 1968 the Saint Amand les Eaux-Raismes Regional Nature Park was born. It was, in embryonic form, the present-day Scarpe-Escaut Park, the oldest French Nature Park. At the time, this small park was only made up of several communes and did not extend as far as the Belgian border. However, a serious of expansion projects, mainly to the north, the Escaut downstream section, brought the question of the border into sharp focus.
In the early 80s, the administrative decentralisation which affected Belgium as much as France meant that policy decisions on nature parks became a matter for regional authorities. In 1983, the regions of Nord-Pas de Calais (France) and Wallonia (Belgium) signed a memorandum of understanding setting out their aim to create a nature park in the Hainaut area that would straddle the border. The Interreg programme, encouraged by the European Community in 1989 to finance projects involving cross-border cooperation, backed the collaboration between the Scarpe-Escaut Park and its Belgian partners, thus providing the context for the creation of the Escaut Plains Nature Park in 1996. With the establishment of this park on the Belgian side of the border, the Hainaut Cross-border Nature Park came into being. Since that time, successive Interreg projects have contributed to the development of cross-border cooperation in numerous sectors of activity, facilitated by a common language and the similar objectives which inform the respective statutory framework in each country.
In 2006, 2008 and 2010 the 'Fêtes du Parc naturel transfrontalier', festivals to celebrate the Cross-border Nature Park, were attended by hundreds of the parks' residents. Such events helped raise awareness among local people of the cooperative approach being taken. Similarly, 'Rencontres du Transfrontalier' ('Cross-border Meetings') were organised to bring elected representatives from both sides of the border to the same table.
In 2010, the Charter for the Scarpe-Escaut Regional Nature Park was renewed. It formed a collective agreement between local institutional stakeholders who made a commitment to implement a strategy for the area and facilitate the establishment of operational processes, according to their respective areas of competence. At the time the Charter was renewed, the Escaut Plains Nature Park was asked to collaborate in defining a cross-border project. In this way, the Walloon park was considered in a diagnostic assessment of the area, and its elected representatives, alongside their French counterparts, were involved in devising a common strategy. In 2010, the presidents of the two parks signed a partnership agreement which aimed to apply the new Charter in a cross-border context and define the means for continuing collaboration.